Latest from manish tewari
The meeting assumes importance as Sharma's current term in the Rajya Sabha is coming to an end, though Congress leaders categorically denied that Sharma's continuation in the Upper House was discussed at the meeting.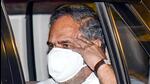 The government will discuss with political party leaders the issue of whether the privilege of MPs recommending the admission of 10 students to central schools in an academic year should end.

Earlier, Tewari, who is the Lok Sabha MP from Punjab's Anandpur Sahib, exchanged sharp words with Charanjit Singh Channi last month after his controversial 'bhaiya' remarks against migrants entering Punjab.

Ukraine evacuation: Congress leader Manish Tewari urged Union ministers to stay from "sanctimonious homilies" and get on with their job of bringing back stranded citizens. He said it was the government's duty and it was not doing anybody any favour.

Punjab Assembly Election 2022: Congress released the list of star campaigners and the names of prominent G-23 leaders of the Congress Ghulam Nabi Azad and Manish Tewari were missing