"Earthquake of Magnitude: 4.1, Occurred on 22-08-2022, 02:01:49 IST, Lat: 29.38 and Long: 71.45, Depth: 10 Km, Location: 236 km NW of Bikaner, Rajasthan," tweeted National Center for Seismology (NCS).


Published on Aug 22, 2022 04:58 AM IST
Police said initially two workers entered the tank at a woolen factory in the district's Karni Industrial Area.


Updated on Mar 28, 2022 03:06 AM IST
The workers entered the 15-feet-deep tank to clean it and fell unconscious. Other people present there pulled them out. The workers were rushed to the hospital where three of them were declared brought dead. The fourth worker died in the hospital


Published on Mar 27, 2022 10:41 PM IST
Here are today's top news, analysis, and opinion. Know all about the latest news and other news updates from Hindustan Times.


Published on Jan 15, 2022 08:59 PM IST
At least 12 coaches of the Guwahati-bound train, which originated in Bikaner, derailed in the Alipurduar section in West Bengal at 5pm on Thursday (January 13). At least nine people were killed while 36 others left injured due to the accident.


Published on Jan 15, 2022 07:31 PM IST
Written by Sharangee Dutta | Edited by Poulomi Ghosh
, Hindustan Times, New Delhi
Five people were killed and at least 36 were injured after 12 coaches of the Guwahati-Bikaner Express derailed on Thursday evening. Four more bodies were recovered hours later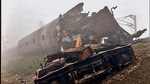 Updated on Jan 15, 2022 01:35 AM IST
This comes days after five people were arrested in Bikaner as they were found with slippers fitted with Bluetooth devices to be able to attempt cheating in the Rajasthan Eligibility Examination for Teachers (REET)-2021.


Updated on Oct 23, 2021 10:45 AM IST
Written by Shubhangi Gupta | Edited by Amit Chaturvedi
, Hindustan Times, New Delhi
A 4.3 magnitude earthquake struck 420 km northwest of Bikaner, Rajasthan on Friday.


Updated on Feb 12, 2021 02:22 PM IST