Ayurveda and Gut Health Expert on easy home remedies to boost metabolism and relieve constipation.

Published on Apr 17, 2023 01:38 PM IST
Fat is important since it provides cushioning to organs, stores energy, protects the body against elements, supports cell growth and prevents early cell death but can increase in oil content in food cause diabetes? Doctors answer


Updated on Nov 27, 2022 05:20 PM IST
Summer is here and so is the fluctuating mood of our skin which is why we needed another episode of Sonam Kapoor Ahuja's Vanity Vignettes where she spills the beans on top 3 tips for glowing skin | Watch


Updated on Apr 21, 2021 04:59 PM IST
As per a new study, a low-fat vegan diet has better outcomes for weight, body composition, insulin sensitivity and cholesterol levels, compared with a Mediterranean diet.


Updated on Feb 11, 2021 08:30 AM IST
From Tokyo to Singapore, olive oil has gone from a rejected item to most loved item in dishes.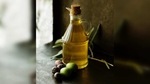 Updated on Jan 29, 2021 12:47 PM IST