The festival of Shardiya Navratri, a nine-day long Hindu festival during which devotees worship Durga, is just round the corner and if you are fasting in the coming days, here are some easy recipes of Sabudana wada, Sabudana kheer and Sabudana khichdi for you


Updated on Sep 28, 2022 01:18 PM IST
While fasting is a good way to detox, it can also make us sluggish or sleepy because of change in our diet. Here are some tips to fast the right way, as per Ayurveda.


Published on Oct 04, 2021 11:50 AM IST
The festival of Navratri falls on Thursday, October 7 and ends on October 15, 2021. Here are some lip-smacking recipes to please your taste buds on this occasion.


Updated on Oct 04, 2021 03:02 PM IST
Navratri 2021: From date, time and significance, here are all the details about Navratri, the nine-day long Hindu festival during which devotees worship Goddess Durga.

Updated on Oct 06, 2021 10:37 AM IST
The guidelines issued by Yogi Adityanath government in Uttar Pradesh say that small vehicles should be used for the immersion of idols and the minimum number of people should be involved in the programme.


Updated on Sep 20, 2021 09:12 AM IST
Ram Navami 2021: Here's all you need to know about the date, history, significance and celebration of the birth of Ram in India


Updated on Apr 21, 2021 09:41 AM IST
Kangana Ranaut lashed out at Twitter users who pointed out that she shouldn't be consuming onions during the Navratri period.


Published on Apr 20, 2021 04:36 PM IST
On the occasion of Navratri, Shilpa Shetty shared a video of daughter Samisha from a puja at their house. Watch here.


Published on Apr 20, 2021 04:30 PM IST
On Navratri, actors Jay Bhanushali and Mahhi Vij decided to dress up their daughter Tara as goddess for Kanjak puja and worship her. Watch.


Published on Apr 20, 2021 12:42 PM IST
Up for a 9-day fast for seasonal cleansing, following the principles of Ayurveda during the season change? Mira Rajput Kapoor got you sorted with a diet plan that promises to leave you feeling 'fitter, healthier and stronger' while your body's 'battery backup is completely juiced up'


Updated on Apr 18, 2021 01:08 PM IST
Kangana Ranaut shared a photo of a goddess that has been with her since for a long time. Taking to Twitter, she wrote that she has lost a lot but the picture has stayed with her.

Published on Apr 13, 2021 01:13 PM IST
It asked organisers to make Aadhaar cards mandatory at entry spot "to detect non-Hindus entering venues." It claimed non-Hindu youths were entering these events and misbehaving with women.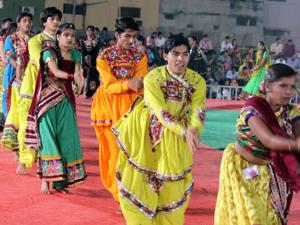 Updated on Sep 29, 2019 09:35 AM IST