Lok Sabha elections 2019: 41% polling till 2 pm on final voting day; clashes in West Bengal
Three states — Uttar Pradesh, Bihar and West Bengal — had seats scheduled for polling in each of the seven phases in the elections.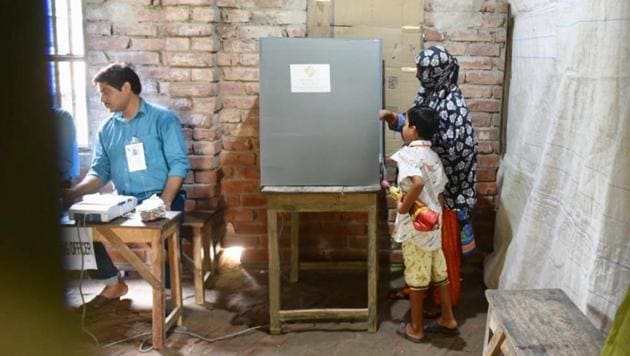 Updated on May 19, 2019 02:40 PM IST
Nearly 41.41% voters cast their votes in the first few hours of polling in the final round of the seven-phase elections, which began on April 11, for electing the 17th Lok Sabha. Prime Minister Narendra Modi's constituency Varanasi is among the 59 parliamentary seats voting across 7 states.
(Read live updates here)
At 2 pm, the Election Commission website put the overall voting figure at 41.41 per cent, with Jharkhand reporting highest turnout of 52.89% and Bihar lowest of 36.20%.
The PM , as he did in all the earlier phases too, tweeted an appeal in the morning, urging voters to come out and vote in huge numbers. "Your one vote will shape India's development trajectory in the years to come. I also hope first time voters vote enthusiastically," he wrote.
West Bengal, which has witnessed high-decibel campaign and also violence during voting, witnessed clashes on Sunday too with Trinamool and BJP blaming each other for violence. Crude bombs were hurled at two places in Gilaberia area in Deganga of North 24 Parganas district under Barasat constituency and in Raidighi of South 24 Parganas district under Mathurapur constituency came in as voters queued up in polling booths.
Read: A look at key seats in phase 7 of Lok Sabha elections
There were allegations that BJP supporters were beaten up and its camp office vandalised allegedly by TMC workers in Kultoli in Jaynagar Lok Sabha . Sayantan Basu, the BJP's candidate for Basirhat constituency, alleged rigging in several areas and said police was doing nothing to stop it.
BJP candidate in Diamond Harbour constituency, Nilanjan Roy, alleged that his car was vandalised in front of police in Budge Budge area.
"Bike-borne goons came and vandalised by car. We have informed the EC and police super about the incident. The EC has failed to utilise the police and security forces. The poll panel has become a mute spectator. I had told the police that trouble would take place here on polling day," said Roy.
Mala Roy, the TMC's candidate in Kolkata South constituency, alleged that central force personnel did not allow her to enter booth number 72 in a polling station in Mudiali under her constituency. Roy said she went after learning that polling was stopped for 45 minutes. She said she will lodge a complaint with the poll watchdog.
Early morning queues were seen at several polling booths in Uttar Pradesh, Bihar, Jharkhand and Himachal Pradesh. Bihar CM Nitish Kumar was among the early voters and batted for shorter poll schedules: "Elections should not be held over such a long duration, there was a long gap between each phase of voting. I will write to leaders of all parties to build a consensus on this."
Among the early voters were BJP's Yogi Adityanath, Sushil Kumar Modi, Kailash Vijayvargiya, Ravi Shankar Prasad, Rahul Sinha; Congress's Pawan Kumar Bansal, Trinamool's Abhishek Banerjee and cricketer Harbhajan Singh.
More than two months of official campaigning for the 2019 general elections ended on Friday. The Election Commission of India (ECI) had announced the schedule on March 10.
Read: 'I never seek anything from God', says PM Modi after his Kedarnath yatra
Three states — Uttar Pradesh, Bihar and West Bengal — had constituencies scheduled for polling in each of the seven phases in the elections. In addition to these states, Sunday's polling will include all PCs in the northern states of Punjab and Himachal Pradesh. Three PCs in Jharkhand are also scheduled to vote.
Of the 59 setas where voting will take place, the Bharatiya Janata Party (BJP) had won 33 in the 2014 elections. Its allies in the National Democratic Alliance (NDA) had won an additional seven seats. The United Progressive Alliance (UPA) had won just five of these seats.
Also read | Lok Sabha elections 2019: PM Modi's Varanasi among 13 east UP seats voting today; big test for SP-BSP
Varanasi, where Prime Minister Narendra Modi is the BJP's candidate, will be voting in Sunday's phase. Gorakhpur, a seat that was held by UP chief minister Yogi Adityanath for a long time, and which the BJP lost in a by-poll, will also vote. West Bengal, which has nine PCs voting in the final phase, has seen large-scale poll-related violence in these elections. The ECI cited this as a reason to cut short the campaign period in the state by a day. To be sure, opposition parties have questioned the impartiality of the ECI over the manner in which this decision was taken.
Also read | Lok Sabha elections Phase 7 voting LIVE Updates: First-time voters in Punjab get certificate of appreciation
Among the northern states, the BJP is running the government in Himachal Pradesh, while the Congress is in power in Punjab. In Madhya Pradesh, eight PCs in the agriculturally prosperous Malwa region are voting in the last phase. Considered to be a BJP stronghold, it has seen rural unrest and agitations against the previous BJP government in the state.
Close Story
Personalise your news feed. Follow trending topics