Lok Sabha elections 2019: Driven out of the electoral process
Hundreds of truckers cannot exercise their franchise as they are away from home during polling; some feel electronic vote or postal ballot could be a way out.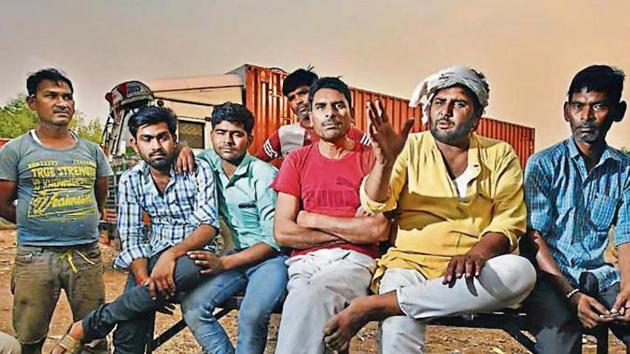 Published on May 12, 2019 04:17 AM IST
On May 4, when Ashok Pal, 36, a truck driver, started his 2,000-km journey from Guwahati to Delhi, he set himself a deadline of May 9 to reach the capital, where he had to offload the vehicle. Pal drove 400 km a day, cutting down on his rest time, and reached Delhi on Thursday, well within the deadline. "I wanted to be in Delhi in time to travel to Sultanpur, my hometown, to cast my vote on May 12," says Pal, sitting inside his truck in Delhi's Sanjay Gandhi Transport Nagar, which has offices and warehouses of 2,500 transporters and is often called Asia's biggest transport hub. Its dusty, crater-ridden roads are lined with shops selling old and new tyres; beer shops, motor parts shops and dhabas.
"I am now stuck in Delhi as the transporter is yet to tell me where I have to offload the truck. I failed to vote in the last two elections, so I am keen to vote this time. But now I am not sure if I can," says Pal, a driver for 16 years.
Talk to truck drivers in Sanjay Gandhi Transport Nagar, home to about 8,000 of them on any given day, and they will tell you that they face exclusion not just from the social life of their families and communities, but also from the electoral process because they are almost always away from home. The country has about nine million goods vehicle drivers, and about 70% of them, according to transport associations, cannot vote.
"I have voted only three times in my life and could not vote this time too. Because we cannot vote, politicians do not care about our issues. It is like being out of sight, out of mind," says Punjabi Singh, 55, who arrived from Odisha on Wednesday, after a six-day gruelling journey. Singh, a truck driver for the last 35 years, was on way to Raigarh in Chhattisgarh to deliver a consignment of apples when voting took place in his village in Aligarh on April 18. "People get holidays so that they could vote, but no one cares about our voting rights. On the road, I have to worry about apples, not votes," says Singh, as he fends off a giant dust cloud left by a passing truck.
Last year, a delegation from PHD Chamber of Commerce and Industry (PHDCCI), an industry body, met the Chief Election Commissioner on the issue. "We requested him to develop a mechanism for truck drivers to cast their vote, and he was pretty sympathetic to the cause," says DK Aggarwal, senior vice-president of the industry body, who was part of the delegation.
"There are about 1 crore drivers, and they should be allowed to vote electronically; we will raise the issue with the new government at the centre ," says Ramesh Agarwal, chairman, Agarwal Packers and Movers, a logistics company, and the former president, All India Transporters Welfare Association (AITWA).
Most truck drivers in north India come from UP, Haryana and Himachal Pradesh unlike a decade ago, when a majority of them came from Punjab's Gurdaspur and Kapurthala districts. Many say they should be allowed postal voting. "If defence personnel and paramilitary forces can be allowed postal ballot, why not we? We do not go on holidays; we drive the growth of the country," says Prem Singh, 45, a trucker, who could not vote because he was on his way to Kolkata when voting took place in his village in Farrukhabad district in UP on April 29. "On the day of voting, I called my wife from the truck and asked her to vote," says Singh. Did he also tell her whom to vote for? "No, it is her choice," he says.
Singh, who has completed class 12 and wanted to join the forces, appeared for entrance examinations for the police, the BSF, and the CISF in the mid-1990s, but could not get through. So, in 2,000, he started working as a truck driver. He has 10 bigha land in his village, which he has leased on a crop-sharing basis, but the income, he says, is not enough, "My sons study in a private school and live in a hostel. I do not want them to become drivers."
Satish Chandra Sharma, 25, who hails from Etawah in UP, was on his way to Delhi from Kolkata on the day of the voting. "I had reached Allahabad early in the morning and had the temptation of driving fast and reach, Etawah, 350 km away, by evening and vote. But then I thought I would be taking an unnecessary risk to vote for people who anyways do not care for us," says Sharma, who used to be a carpenter before he took to driving two years back. "I used to earn ₹9,000 a month as a carpenter, but now I make ₹15,000, which is also a pittance considering the hard work I put in," says Sharma.
Many drivers say that transporters also do not cooperate ,and it is very difficult to take a leave from work. "Many of them have installed GPS devices in the trucks, and give us tight deadlines, so it is very difficult to take a small detour to vote or meet our family. My home is 100 km from the highway in Uttar Pradesh, which I pass twice in a month," says BN Singh, another truck driver . "The worst part is most drivers drive even if they are sick, especially when they are carrying fruits and vegetables."
A study conducted by Kantar IMRB, a research and consultancy firm, in association with Castrol India, between April-May in 2018, revealed that more than 50% of truckers face driving-related health problems such as mental stress, loneliness, stress, neck, shoulder, lower back pain, among others. The long working hours and periods away from home and family, difficult road and driving conditions emerged as issues affecting their health. Over 1,000 truckers in several cities across the country were covered in the survey.
"We lead a cursed life. Little pay, and not voting, is a more important issue for me. Driving a fully loaded container thousands of kilometres requires both hard work and skills. We are skilled workers, not labourers, and should be paid accordingly," says Ram Narayan, another driver, who earns ₹15,000 a month.
While these drivers may not be able to vote, they all claim to have insights into the election prospects of political parties. It is because, they say, no one travels across the length and breadth of the country as much as they do. Punjabi Singh, who has been travelling to Odisha for 30 years, says the BJP is going to surprise the BJD this time. And how did he reach this conclusion? "By many roadside conversations with locals at dhabas in various cities," he says. Bal Krishan, who arrived from Cuttack the day we met him, covering a distance of 1,700 km, too has a similar opinion: "Naveen Patnaik is still very popular, but a bit of anti-incumbency is working against him and he might lose quite a few seats to BJP this time."
Talking of his experience of driving in various states, Ashok Pal says, "You might be surprised, but the fact is now drivers do not face any problems in UP from the police and transport authorities, and West Bengal is where we face maximum harassment at the hands of police." And which states have the best roads? "Almost all the highways across the country have improved a lot in the past few years, and it is the only consolation for us. We spend most of our lives on the highways, living, cooking, sleeping in our trucks."
Topics
Close Story