Fire officials received information at 2.18 pm about the wall collapse at the DDA flats, Pochanpur, Dwarka Sector-23 B-block, they said, adding that three fire-tenders were rushed to the site.

An 18-year-old Zepto delivery executive succumbed to injuries on Wednesday, two days after a hit him by a vehicle that fled the spot in Dwarka on May 16

Police arrested 19-year-old Sahil alias Monu, a resident of Nangli Dairy, later in the evening, and recovered a countrymade pistol that he used in the crime along with an empty bullet shell.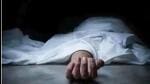 Residents said that while work on the project has been ongoing for the past eight years, tree felling started only 10 days ago, with over 200 trees being axed since then.

Police said the anti-narcotics cell received a tip-off on Monday, following which a team was formed and the suspect, identified as Nnamdi Ilias Akabueze, was apprehended by evening