Bakery industry is constantly evolving and new trends are emerging all the time. Embrace the latest baking trends and techniques for delicious desserts and treats.

Updated on Jan 11, 2023 03:00 PM IST
A perfect cake is a work of art and here are some tips that can help you to become the prefect cake artist.

Published on Aug 07, 2022 04:55 PM IST
Here's a super fun recipe of preparing Brownies at home that will curb your dessert cravings without giving you the worry of gaining calories.


Published on Jun 29, 2022 07:05 PM IST
This autumn, a lip-smacking Vanilla Bean Bundt Cake is sure to make a show-stopping display on any dessert table. Check out its simple recipe inside

Updated on Oct 06, 2021 09:45 PM IST
A brownie a day keeps the frownies away so drool over these fudgy brownie bites that are gluten-free and vegan sweet treats, which require no baking. Check out its easy recipe inside


Updated on Jun 02, 2021 04:55 PM IST
Move over carrot cakes and try these super soft carrot cake protein balls that need no baking, take only three simple steps to prepare and are packed with health benefits including strengthening eyesight and aiding in weight loss. Check out the recipe inside

Updated on May 16, 2021 05:19 PM IST
If you are doing Easter baking this weekend, you just 'donut' wanna miss this recipe of Carrot Cake Donuts with coconut frosting as they are not only scrumptious but also gluten free, dairy free, refined sugar free and basically all things healthy. Check out the nutritional benefits inside


Updated on Apr 03, 2021 07:14 PM IST
Here are today's top news, analysis, and opinion. Know all about the latest news and other news updates from Hindustan Times.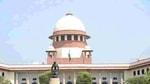 Published on Feb 16, 2021 01:29 PM IST
What is life if not for enjoying single serve treats that you are not required to share? If you too think the same, try your hands on this rainbow coloured funfetti mug cake which takes just 1 minute to prepare and tastes like birthday cake | Check recipe inside


Updated on Feb 16, 2021 11:22 AM IST
Want your romantic efforts to make your partner's heart skip a beat? Try baking an extraordinarily tasty Heart Pound Cake this Valentine's Week and seal the love deal with this recipe


Updated on Feb 07, 2021 11:34 AM IST
In a recent Instagram story, Deepika Padukone shared that she is more fond of baking than cooking and she loves to bake cookies the most. So today, we are going to share with you a simple recipe of chocolate chip cookies that will melt in your mouth.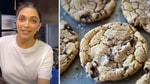 Published on Jan 20, 2021 01:41 PM IST