Flight lieutenant Advitiya Bal's family reached Rajasthan on Friday to receive his body. On the same flight, Sherbir Panag, a financial crimes and corporate governance lawyer, was travelling and shared his experience on an IndiGo flight on Twitter.


Updated on Jul 30, 2022 12:59 PM IST
People familiar with the matter said defence minister Rajnath Singh spoke to the IAF chief and enquired about the crash. He has been apprised of the matter by the IAF chief.


Updated on Jul 28, 2022 11:10 PM IST
Of the 38 injured people, 20 are being treated in Barmer, and 18 others are admitted to government and private hospitals in Jodhpur.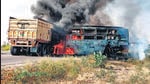 Updated on Nov 11, 2021 05:21 AM IST
The Lakha red granite of the state will be used in the construction of the iconic Central Vista project.

Updated on Jun 22, 2021 03:57 AM IST
, Hindustan Times, Barmer
Mukesh Mathrani
The car was coming from Gujarat to Barmer and it crashed into the truck's back side on Saturday night.


Published on May 23, 2021 12:16 PM IST