This video that has been shared by Good News Movement on Instagram and has been going viral, shows how strangers collect to help a little girl get her Peppa Pig balloon back.

Published on Jul 27, 2022 01:41 PM IST
According to the Federal Assembly of Tango Workers, the cultural mainstay had employed some 7,000 people throughout Argentina. But between 2020 and this year, some 40 tango clubs out of a total of 200 in Buenos Aires have closed permanently.


Published on Jun 16, 2021 08:36 AM IST
AP |
, Buenos Aires (argentina)
The two neighbouring countries in South America, Brazil and Argentina, are taking very different steps at the moment. While Buenos Aires is embracing the nightlife again, Sao Paulo and Rio de Janeiro have announced tighter restrictions.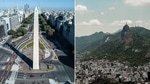 Updated on Mar 07, 2021 08:03 AM IST
The cubs were born to Tania and Qaramta, whose name means 'The One Who Cannot Be Destroyed' in the regional Qom language.

Published on Feb 11, 2021 10:38 AM IST