Lok Sabha elections 2019: Mumbai, Hindi heartland states vote in crucial phase of Lok Sabha polls
Of the 72 seats going to polls, the BJP won 45 in 2014. Its allies won another 11 seats. The Congress's tally was just two.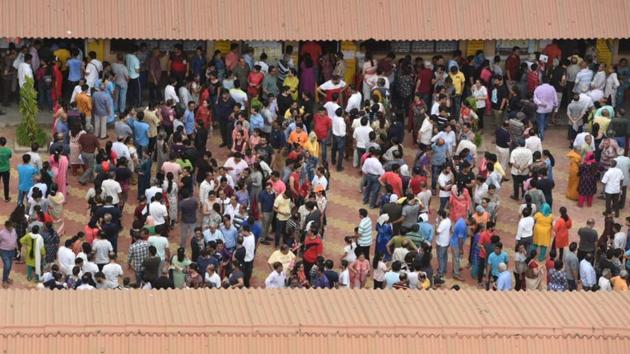 Updated on Apr 29, 2019 09:44 AM IST
Voting began at 7 am for 72 seats across nine states in the fourth phase of 2019 general elections today. With this phase, polling ends in Maharashtra and Odisha, while the process starts in Rajasthan, Madhya Pradesh and Jharkhand. Twenty-six seats in Bihar, Uttar Pradesh and West Bengal are also voting in this phase. These three states have seats going to polls in each of the seven phases in the 2019 elections.
As in earlier phases, this time too Prime Minister Narendra Modi tweeted urging voters to 'break record of previous three phases'. Home minister Rajnath Singh also appealed to the voters saying: 'Your vote will help shaping of a New India'.
The first hour of voting saw many celebrites, industrialists and politicians queuing up to exercise their franchise. Among them were industrialist Anil Ambani, actors Priyanka Chopra, Rekha , Sunjay Dutt, RBI Governor Shaktikanta Das and politicians Vasundhara Raje and Giriraj Singh.
Long queues were seen outside booths in Jharkhand, Rajasthan and Uttar Pradesh with complaints of malfunctioning EVMs reported from several booths in Rajasthan.
The Bharatiya Janata Party (BJP) has high stakes in this phase. Of the 72 seats going to polls, it won 45 in 2014. Its allies won another 11 seats. The Congress's tally was just two. In 2009, the BJP-Congress breakup in these seats was 9-29.
Seventeen seats in Maharashtra will vote on Monday, which is the largest among the states going to polls in the fourth phase. The BJP-led National Democratic Alliance (NDA) won all of these seats in 2014, an increase of 11 seats from its 2009 tally.
Among the 19 seats that will vote in the states of Madhya Pradesh and Rajasthan, the BJP won 18 in 2014.
Extrapolated results from the 2018 assembly elections show that the Congress wrested six of these seats from the BJP. While polling in Rajasthan will end in the fifth phase, Madhya Pradesh will vote in four phases beginning on Monday. Asansol, one of the two seats which the BJP won on its own in West Bengal in 2014, is among the eight seats which will go to polls on Monday. The All India Trinamool Congress currently holds six out of the eight seats which will vote on Monday. The BJP will also try and defend 12 out of 13 seats in the constituencies going to polls in UP. Repeating this performance will not be an easy task given the fact that the Samajwadi Party and the Bahujan Samaj Party have an alliance this time.
Voting will also take place on Monday in parts of the Anantnag Lok Sabha constituency in Jammu and Kashmir, which is scheduled go to polls in three phases, Monday being the second.
Close Story
Personalise your news feed. Follow trending topics