'Come out in record numbers': PM Modi tweets as third phase of Lok Sabha polls begin
Ahmedabad, where Modi will cast his vote, has two parliamentary constituencies of Ahmedabad East and Ahmedabad West.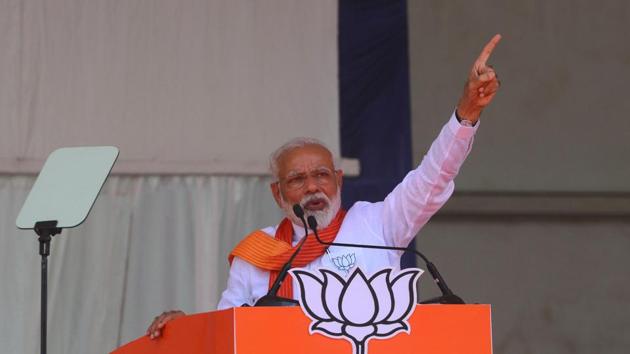 Updated on May 02, 2020 08:23 PM IST
Prime Minister Narendra Modi on Tuesday tweeted again to urge voters to come out in "record numbers" to vote in the third phase of the Lok Sabha election.
"Urging all those voting in today's Third Phase of the 2019 Lok Sabha elections to do so in record numbers. Your vote is precious and will shape the direction our nation takes in the years to come," Prime Minister Modi tweeted.
"I'll be voting in Ahmedabad in a short while from now," he wrote.
WATCH| Lok Sabha Elections 2019: Big fights to watch out for in Phase 3 of voting
Hundred and seventeen parliamentary constituencies in 15 states and Union Territories are polling on Tuesday in what is the biggest of the seven-phase Lok Sabha election 2019. In 2014, the Bharatiya Janata Party (BJP) finished ahead of the Congress in the seats which went to polls in the first and second phase, but was behind non-Congress, non-BJP parties.
Voting will take place for all the 26 constituencies in Gujarat, all the 20 seats in Kerala, 14 each in Maharashtra and Karnataka, ten in Uttar Pradesh, seven in Chhattisgarh, six in Odisha, five each in Bihar and West Bengal, four in Assam, two in Goa, one each in Jammu and Kashmir, Dadra and Nagar Haveli, Daman and Diu and Tripura.
Ahmedabad, where Modi will cast his vote, has two parliamentary constituencies of Ahmedabad East and Ahmedabad West.
In Ahmedabad East, two Patidars are contesting the Lok Sabha election 2019. Hasmukhbhai Somabhai Patel of the BJP is pitted against Congress' Geetaben Patel. Geetaben Patel is the convenor of the Patidar Anamat Andolan Samiti, and a close aide of the movement's leader Hardik Patel. She is the only female candidate fielded by Congress in the state of Gujarat.
Naresh Jayshwal, a transgender is also contesting as an Independent candidate from the constituency.
Also read: 'Time to bring change', says transwoman candidate from Ahmedabad East
Ahmedabad West is witnessing a fight between three-time former Rajya Sabha member Raju Parmar of the Congress and the BJP's sitting member of Parliament Kirit P Solanki.
Voting will be held in 71 constituencies in the fourth phase, 51 in the fifth phase, 59 in the sixth and 59 in the seventh phase. The votes will be counted on May 23.
Topics
Close Story