Lok Sabha election 2019: Third phase is a test for BJP and allies in Assam
Updated on Apr 22, 2019 08:39 PM IST
The ruling party, which won seven seats in Assam in the last Lok Sabha election, hopes to win at least 12 of the 14 Lok Sabha seats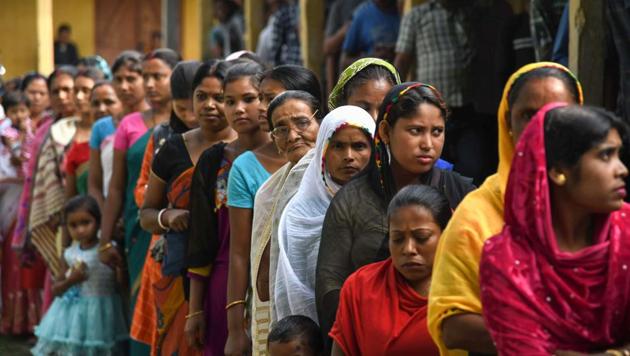 The Bharatiya Janata Party and its allies Asom Gana Parishad and Bodoland People's Front will face a test in Assam in the third phase of polling on Tuesday when four constituencies in the northeastern state vote.
The ruling party, which won seven seats in Assam in the last Lok Sabha election, hopes to win at least 12 of the 14 Lok Sabha seats.
Ahead of the Lok Sabha election 2019, Assam witnessed massive state-wide protests against the Citizenship (Amendment) Bill, 2016 (CAB), which proposes to give citizenship to Hindus, Sikhs, Christians, Buddhists, Jains and Parsis from Muslim-majority Bangladesh, Pakistan and Afghanistan.
Read: All you need to know about Lok Sabha elections 2019
Stiff resistance from student bodies, indigenous groups and even by the BJP's allies in Assam and other states of the northeast deterred the government from tabling the legislation, which is now set to lapse, the issue is expected to dominate the political discourse in the state.
The National Register of Citizens of India (NRC) drive undertaken by the government to determine the citizens of Assam is another issue which could also affect the poll outcome.
Voting will be held in Dhubri, Barpeta, Kokrajhar, and Gauhati Lok Sabha seats on Tuesday.
Also read: Here is all you need to know about Assam
While perfume baron Badruddin Ajmal-led All India United Democratic Front (AIUDF) had won both Barpeta and Dhubri in the Lok Sabha election in 2014, an independent candidate was successful in the Kokrajhar constituency. The ruling BJP has held the Gauhati Lok Sabha seat since 2009.
The 68-year-old Badruddin Ajmal will contest from Muslim-majority constituency of Dhubri this time as well. He is pitted against the AGP's Zabed Islam and Abu Taher Bepari of the Congress.
Also read: Badruddin Ajmal aims to retain Assam's Dhubri seat
The AIUDF has fielded Hafiz Rafiqul Islam this time in Barpeta, a former Congress stronghold, against Deepak Das of the AGP and Congress' Abdul Khaleq. Sirajuddin Ajmal, who is the brother of the AIDUF's founder Badruddin Ajmal, had defeated the BJP's Chandra Mohan Patowary in the 2014 Lok Sabha election from this Muslim-dominated seat.
In Kokrajhar, Ajmal has lent support to the United People's Party Liberal (UPPL) candidate UG Brahma. Brahma is pitted against BPF candidate and Assam social welfare minister Pramila Rani Brahma and Independent sitting MP Naba Sarania. Congress has fielded Sabda Ram Rabha and CPI(M) Biraj Deka from the Kokrajhar seat.
The ruling party has nominated Queen Ojha from the Gauhati Lok Sabha seat and she is fighting against Bobbeeta Sharma of the Congress. The Gauhati constituency has alternated between the Congress and the BJP and Bijoya Chakravarty defeated Manash Borah of Congress in the last Lok Sabha election.
The votes will be counted on May 23 along with the rest of the country.
Personalise your news feed. Follow trending topics