Lok Sabha election 2019: 'Voter ID more powerful than IED', says PM Modi after casting vote in Ahmedabad
May 03, 2020 01:02 AM IST
The Prime Minister reached the polling booth in Nishan Higher Secondary School in Ranip area of Ahmedabad in an open vehicle and interacted with people as he went inside to vote.
A voter ID is much more powerful that an IED (improvised explosive device), Prime Minister Narendra Modi said on Tuesday after casting his vote in his home state of Gujarat.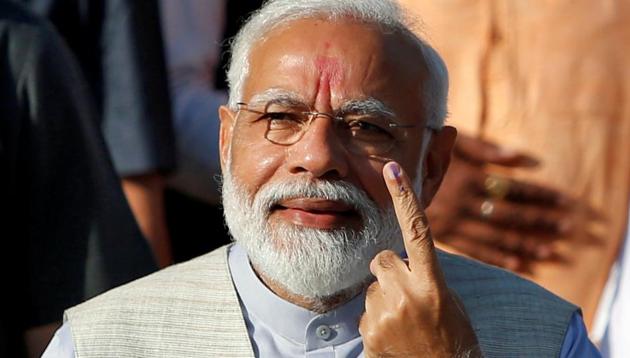 Modi met his mother, Hiraba, at his brother Pankaj Modi's residence at Raisan village, and then rode in an open jeep past hundreds of onlookers to cast his vote shortly after 8am.
Modi, who is a parliamentarian from Uttar Pradesh's Varanasi, spent around 20 minutes with his mother, who gave him a shawl, sweets and a coconut, and her blessings for his victory in the ongoing Lok Sabha polls.
WATCH: 'Voter ID more powerful than terrorists' IED': PM Modi after casting vote
"IED is a weapon of terrorism, and voter ID is a weapon of democracy," he told reporters after voting, referring to voter identification cards.
Modi, who is seeking a second term in office, appealed to citizens to come out in large numbers to vote in all the remaining phases of the Lok Sabha polls. Ruling Bharatiya Janata Party (BJP) chief Amit Shah, who is contesting the Lok Sabha election from Gandhinagar seat, which covers Ahmedabad city, welcomed him outside the polling booth set up at a school in Ranip area.
After casting his vote, Modi walked some distance from the polling booth and interacted briefly with journalists. He welcomed the participation of young voters who are exercising their franchise for the first time in the ongoing Lok Sabha polls, and conveyed his best wishes to them.
"This entire century belongs to those who are voting for the first time. They have to vote for the bright future of this century. Therefore, I would especially urge the new voters to commit to 100% voting," he said.
Modi will file his nomination from Varanasi on April 26 and will be accompanied by the party's top brass, including Shah. Chief ministers of National Democratic Alliance (NDA)-ruled states and BJP allies are expected to attend the high-profile event.
In an attempt to highlight their demand for the constitution of a turmeric board to ensure proper price for their crop, around 50 turmeric farmers in Telangana's Nizamabad district are planning to file their nominations in Varanasi parliamentary seat.
Led by All India Turmeric Farmers' Association, the farmers, including women, will leave for Varanasi on April 25. They would be joined by a group of another 50 farmers from Erode in Tamil Nadu, who too are planning to contest from Varanasi, which goes to polls on May 19.
.WATCH| Lok Sabha Elections 2019: Big fights to watch out for in Phase 3 of voting